Community Leadership Meets State House Leadership
Updated: May 1, 2019
By Erika Pike, Vital Village Network
January 1, 2019
The original version of this post by was published in Vital Village's Blog and can be accessed here.
Our footsteps echoed as we passed through the Great Hall of Flags of the Massachusetts State House on December 5th. Fellows  in the Certificate in Leadership & Advocacy for Child-Centered Communities had been preparing all semester to meet with their legislators to advocate for issues that matter most to them, their families, and their communities. They came prepared with their stories, data to back up their ideas, and solutions for their elected officials to act on.
What began in 2014 as the Peer Advocacy Action Roundtable (PAR), has grown into a year-long, 9-credit certificate at the Urban College of Boston, which includes a 6-credit seminar course and a 3-credit, 90-hour externship. Read more about the design, research, and vision of the Certificate published in the Adult Learning Journal here. The course design was influenced by PAR and now taught by Vital Village staff member, Erica Pike. The course is designed to amplify the wisdom and leadership within the Network and to give college credit for community service and leadership.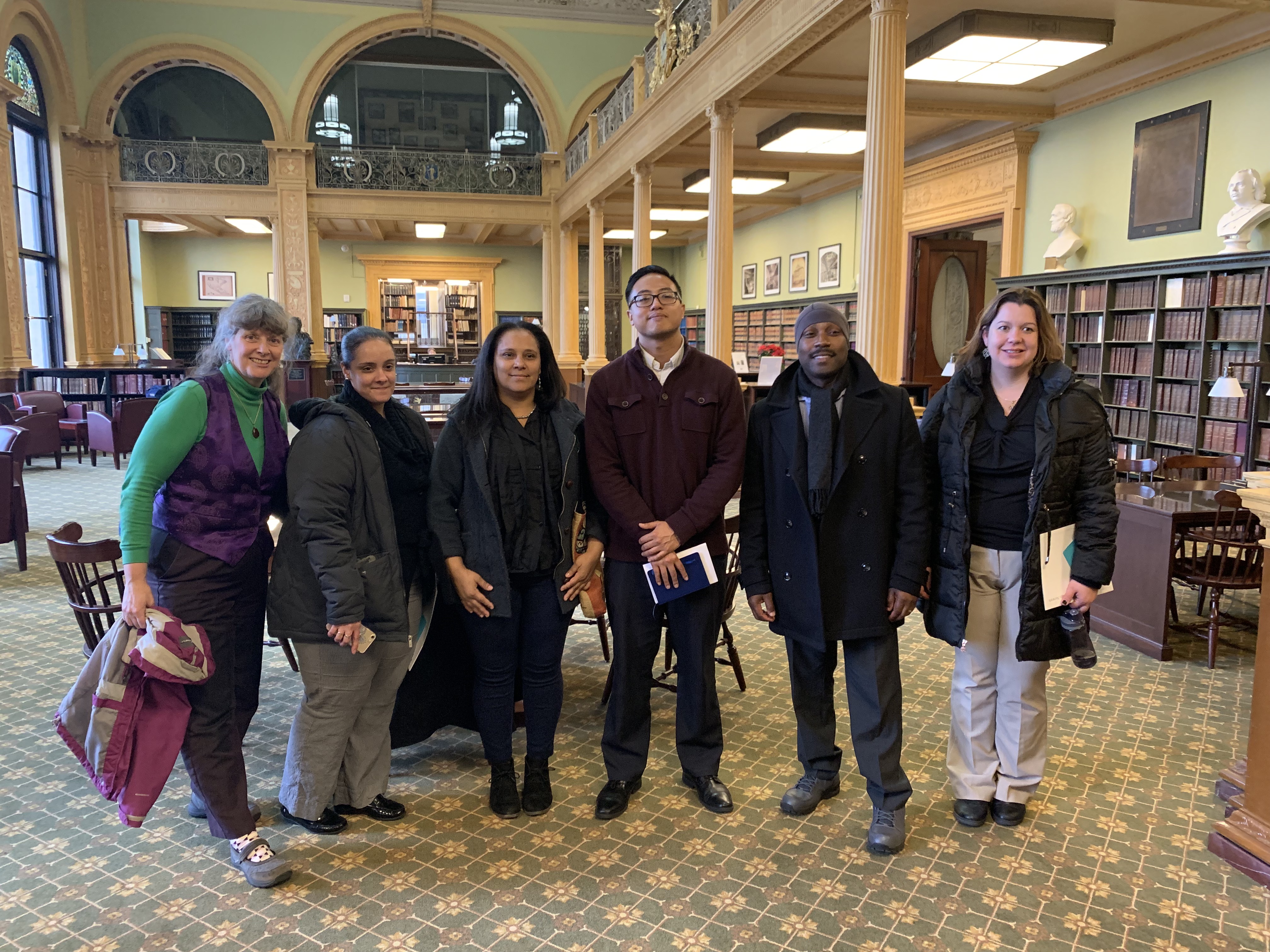 ack in the State House, students met with legislators and their staff including Representatives Holmes, Tyler, Carvahlo, Madaro, and Malia, and Senators Chang-Diaz, DiDomenico, Moore, and Brownsberger. Many of the students had previous relationships with their elected officials, but for some, it was their first time meeting with them. Establishing strong relationships with decision makers, such as elected officials, is one aspect of the Certificate program. Another key aspect of the program is to create a learning lab for students to share their knowledge and leadership experience with one another, so there are opportunities for students to mentor and learn from one another's community leadership experience built into the curriculum. Nearly half  of the weekly seminars were taught by Network partners and each 90-hour externship site will at Vital Village Network partner organizations. Elevating the successes and lessons-learned within the Network tie to our overarching goal to increase cross-sector collaborations between organizations, institutions, and resident-leaders. By having Network partners as guest lecturers and externship host-sites, the students learn from established child and family advocacy organizations and partners benefit from a community leader supporting their mission.




A week after the State House visit, one of the students was invited by Senator DiDomenico and Senator Chang-Diaz to speak about the state's education foundation formula and shared that the "class has been amazing and has helped me so much with all the current work that I am doing in my community." Another student was connected with a city department which can advance her public health advocacy project. And another was encouraged to meet with newly elected Representative Miranda about providing funds for sibling survivors of community violence.




The Certificate provides a platform for fellows to receive deserving credit for their hard work and leadership in the community and connects them to key decision makers and organization representatives to promote equitable, systemic change for Boston's families.




Learn more information about being a guest lecturer, externship host-site, or participating in the 2019-2020 Certificate program by contacting Erica Pike at erica.pike@bmc.org